back to grid
New Orleans Best French Quarter Courtyards for a Wedding
January 9, 2017
With all it's undeniable charming qualities, it's easy to understand why many couples opt to wed in the French Quarter — the heart and soul of New Orleans.  The French Quarter is full of history, architecture, music, food and culture.  It's one of the best cities in the states to host a wedding and ensure that your guests are guaranteed to have a good time!  During the spring and fall months a New Orleans French Quarter courtyard wedding can be stumbled upon on just about every weekend at most of these venues.  Spend a weekend in the quarter and try to keep count of the number of second lines you see pass you by with the bride and groom leading the way.  I promise you won't be able to keep count!  (Check out our guide on how to book your second line HERE.)
The French Quarter courtyard weddings mentioned below are some of the more popular venues in the Quarter, but by no means is this a list of all of them.  These are some of our favorites that we think photograph beautifully, and the space is well utilized.  We've also added a few honorable mentions that are in very close proximity to the French Quarter.  We hope this guide will put you on the right track to planning your courtyard wedding!  Enjoy!
If you are planning a church wedding, with a courtyard reception — don't miss our guide to the best New Orleans Churches.  Click HERE
Maison Dupuy Hotel
Capacity: 200-250
Unique Elements: The courtyard is newly renovated to provide more uninterrupted space.  The new look is exquisite!
Average Cost Per Head: $85
Additional Information: A customized tent is available as a rain plan.  It is $2500 and can be cancelled up to 72 hours before the event.  
http://www.maisondupuy.com/weddings.html

Hotel Mazarin
Capacity:  Ceremony Chairs for up to 100 people Seating and Standing Room for 150 people
Unique Elements:  Elegant courtyard with a European style fountain as its centerpiece.
Cost Per Head:  Starting at $90 per person
Additional Information:  A retractable canopy is available for no additional charge in the event of inclement weather.  There are also two cooling units for hotter months and mobile heaters for cold weather months.
http://www.hotelmazarin.com/french-quarter-weddings
Court of Two Sisters
Capacity: Up to 240 (250 for reception style, 240 for seated ceremony)
Unique Elements: The charm gates at the 613 Royal entrance were wrought in Spain especially for The Court of Two Sisters.  Legend says that Queen Isabella of Spain had them blessed so that their charm would pass on to anyone who touched them.
Cost Per Head: $75 per guest
Additional Information: Largest outdoor dining courtyard in the quarter.  No tents are allowed due to canopy of Wisteria vines covering courtyard.  Rain plan: move into terrace dining area which can accommodate up to 300 guests.
http://www.courtoftwosisters.com/wedding.html
Jackson Square
Capacity: 2 – 201+
Unique Elements: Get married in the iconic spot of New Orleans with the St. Louis Cathedral as your backdrop! 
Cost to Rent: Sliding Scale based upon number of guests – $250-$1,000
Additional Information: The square does remain open during your wedding, but only one permit will be issued during the time of your booked event.  
http://www.nola.gov/parks-and-parkways/event-rules-regulations/weddings-in-jackson-square/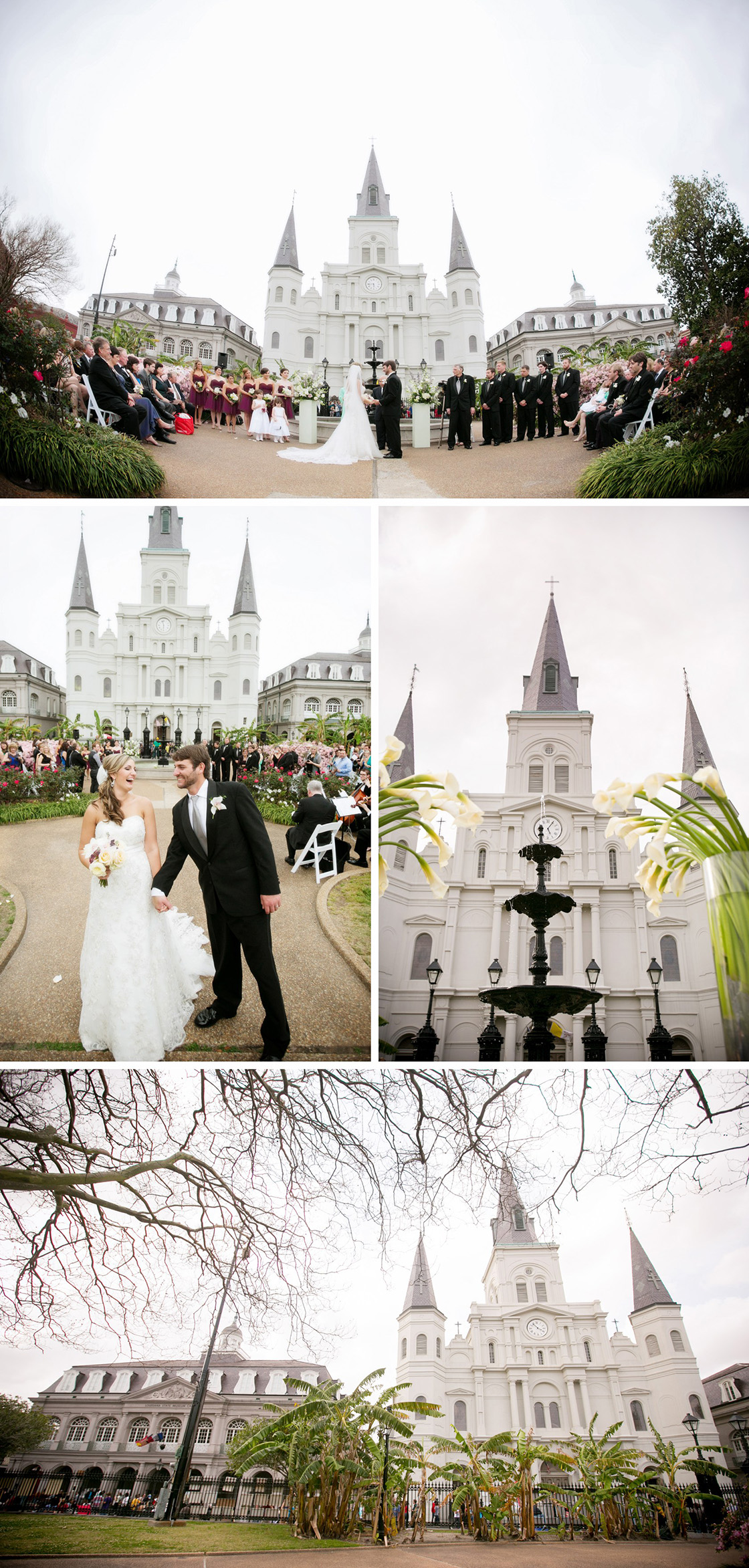 Beauregard Keyes House
Capacity: 200
Unique Elements:  Built in 1826 by architect Francois Correjolles.  House rental includes parlor, ballroom, library, loggia, grand center hall, front and rear galleries, courtyard and parterre garden.
Cost Per Head: No cost per head.  $3000 house rental minimum for 2 hrs. $500 for each additional hour.
Additional Information:  House is purely a venue, all vendors (caterer, tables, chairs, etc.) must be booked separately.
http://www.bkhouse.org/weddings-events 
Omni Royal
Capacity: Up to 200
Unique Elements:  Located on the most fashionable corner, St. Louis at Royal, the hotel has received the Four Diamond luxury award for the past 31 years and has earned the Pinnacle Award for meeting services.
Cost Per Head: $58 – $75 average with no add-ons
Additional Information: Cannot book the courtyard for ceremony only, have to have reception as well. in the event of rain, the wedding is moved into the ballroom.
https://www.omnihotels.com/hotels/new-orleans-royal-orleans/weddings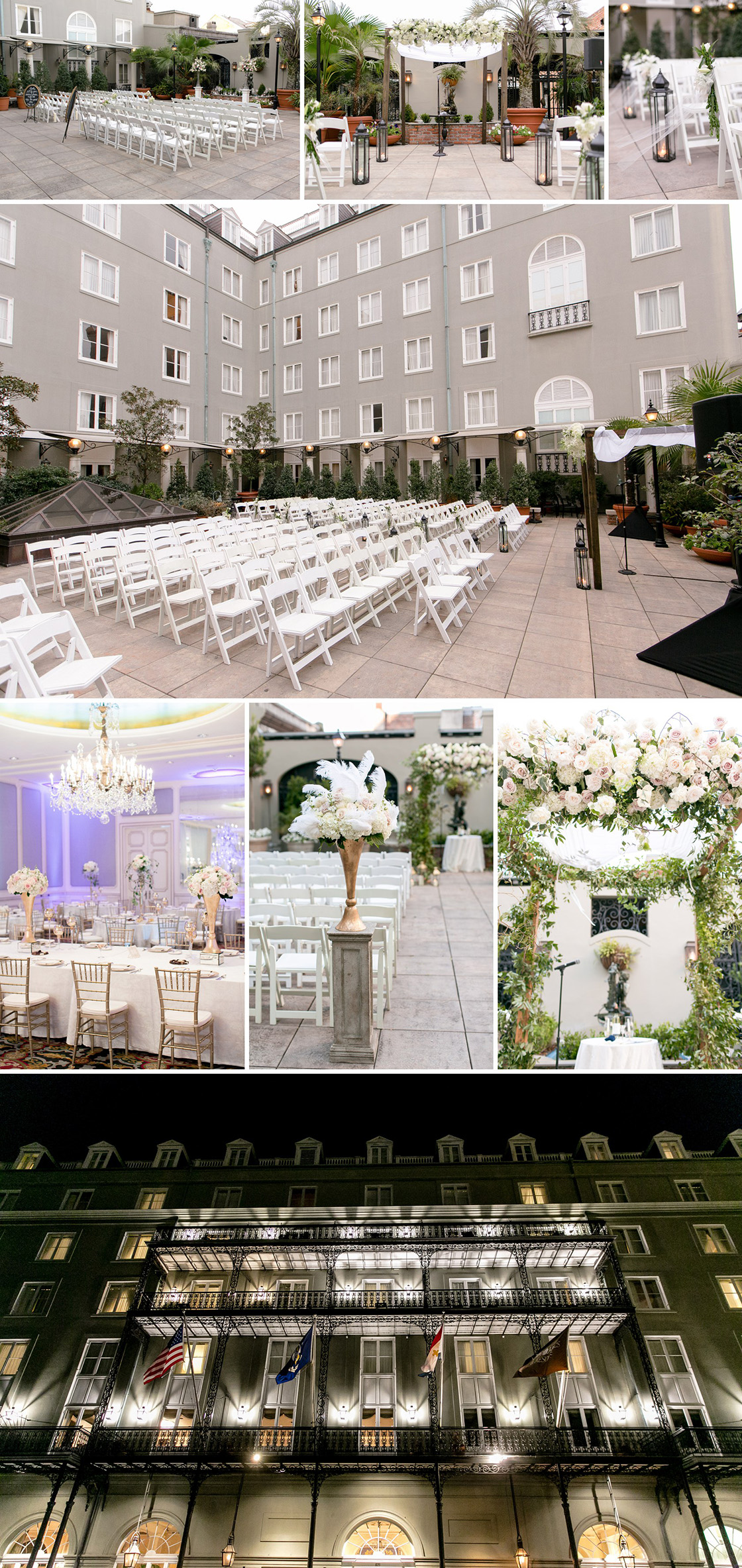 The Ritz Carlton
Capacity:  250 seated in courtyard
Unique Elements: There is more greenery than any other courtyard in the Quarter, and there is a beautiful gazebo to get married under.
Cost Per Head: $150-$250 per guest
Additional Information: Courtyard is reserved for ceremony only, price to rent is $3000 if the reception is at the Ritz, or $5000 if reception is elsewhere.
http://www.ritzcarlton.com/en/hotels/new-orleans/weddings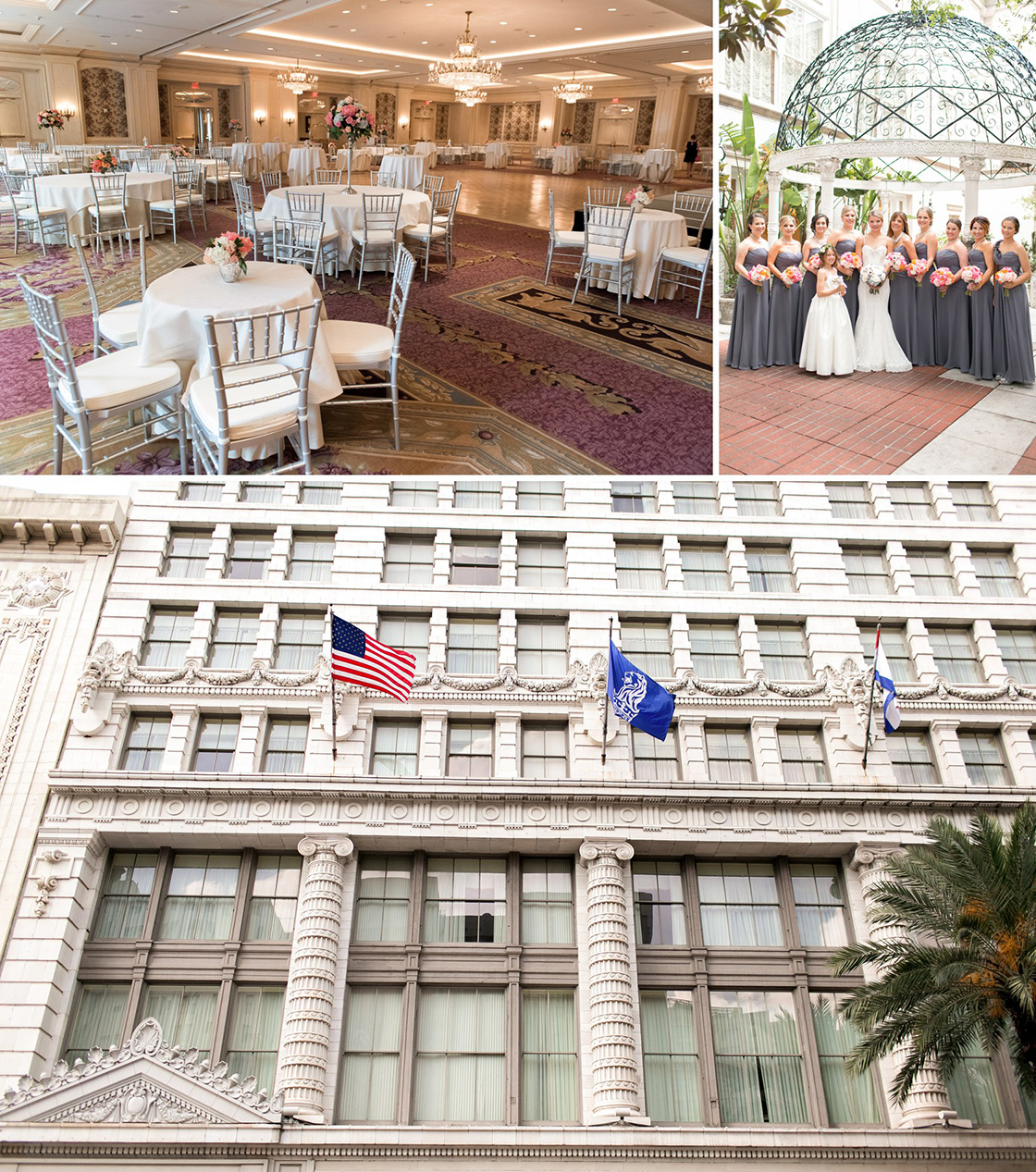 Brennan's
Capacity: 80-150
Unique Elements: Constructed in 1795 by the great grandfather of Edgar Degas, the famous pink building once housed the Louisiana State Bank, served as a private residence frequented by President Andrew Jackson, and was home to eccentric chess master Paul Morphy.
Cost Per Head: approx $55 – $250 per guest (they will work with your budget)
Additional Information: Tent rental is available for all inclusive price of $2750.
http://www.brennansneworleans.com/parties.php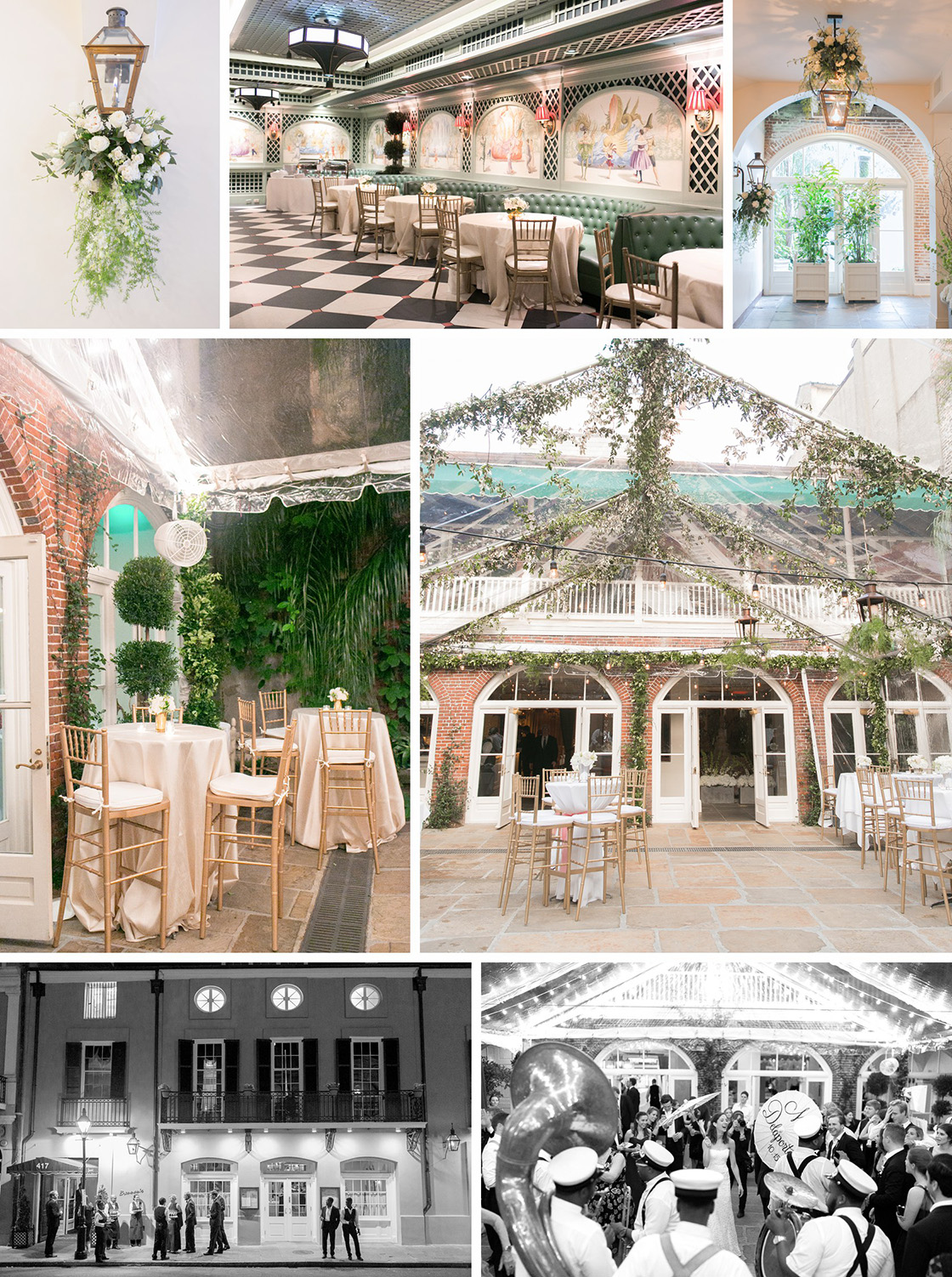 *Il Mercato
Capacity:  A ceremony in the courtyard can hold 250 guests seated, or up to 400 with a mixture of seated and standing guests.
Unique Elements:  Large outdoor fireplace.  Located in the heart of the Lower Garden District facing Sophie B Wright Park. Built in 1931, Il Mercato is a Spanish colonial style building designed by prominent local architect Sam Stone and originally constructed as a neighborhood market.
Cost Per Head:  Averages $100 per guest
Additional Information:  The receptions are held indoors. Although they will flip the courtyard space for a fee to be able to utilize that during the reception as well.  Floorpan: http://www.ilmercatoevents.com/download/attachment/12070
http://www.ilmercatoevents.com/about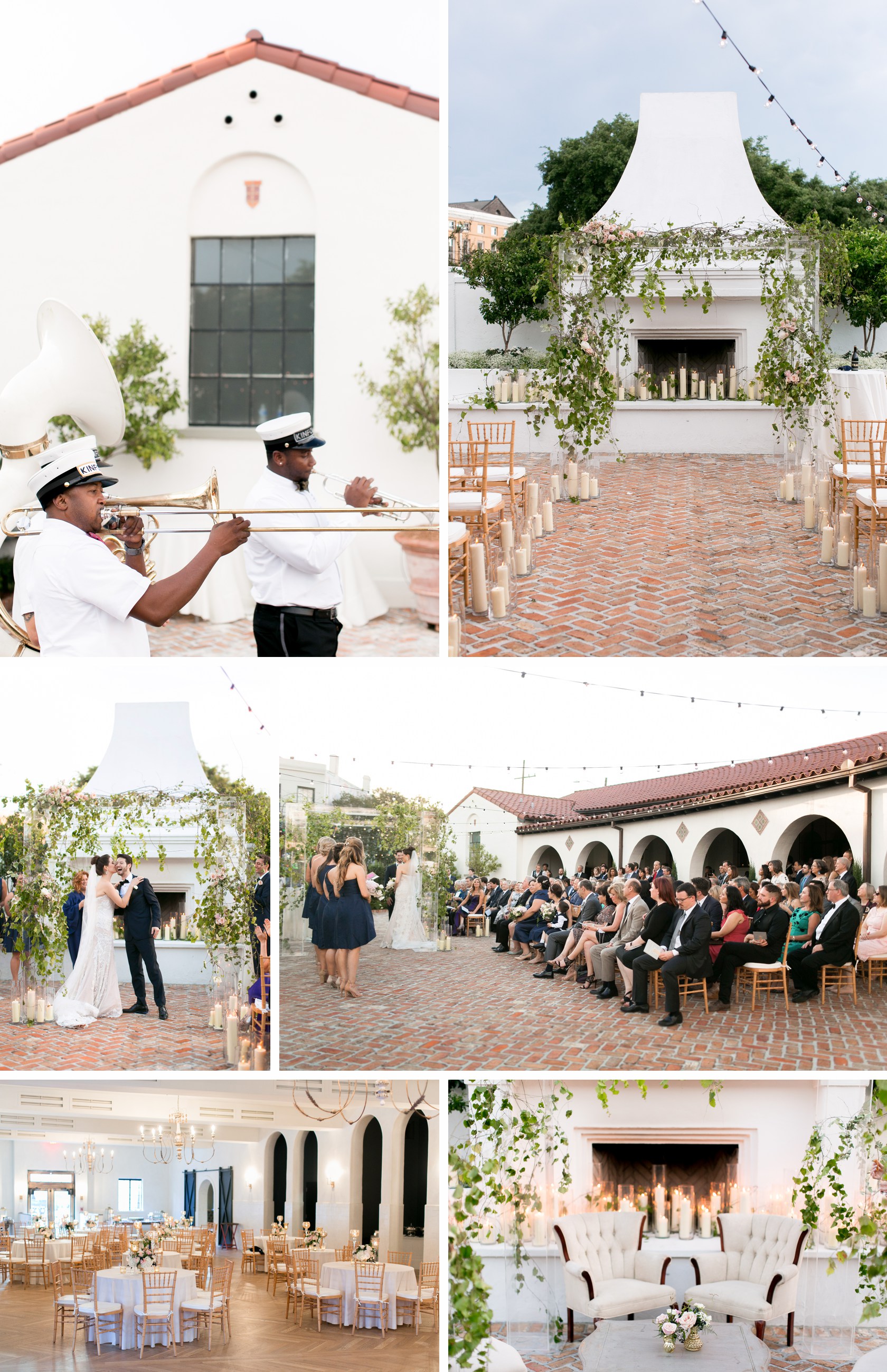 *Race and Religious
Capacity: 300 people
Unique Elements: A wood burning fire place, different courtyard areas for dancing, cocktails, etc, ton of greenery, gas fire lanterns, blends funky and historical
Cost Per Head: no cost per head, $8,000-$15,000 to rent property.
Additional Information: They do not cater or have a bar, so the price to rent the venue is strictly for the property.  The price to rent the tents as a rain plan range from $600-$1500. The property is approximately 75% courtyard space and 25% indoor.
http://raceandreligious.com/gatherings/weddings/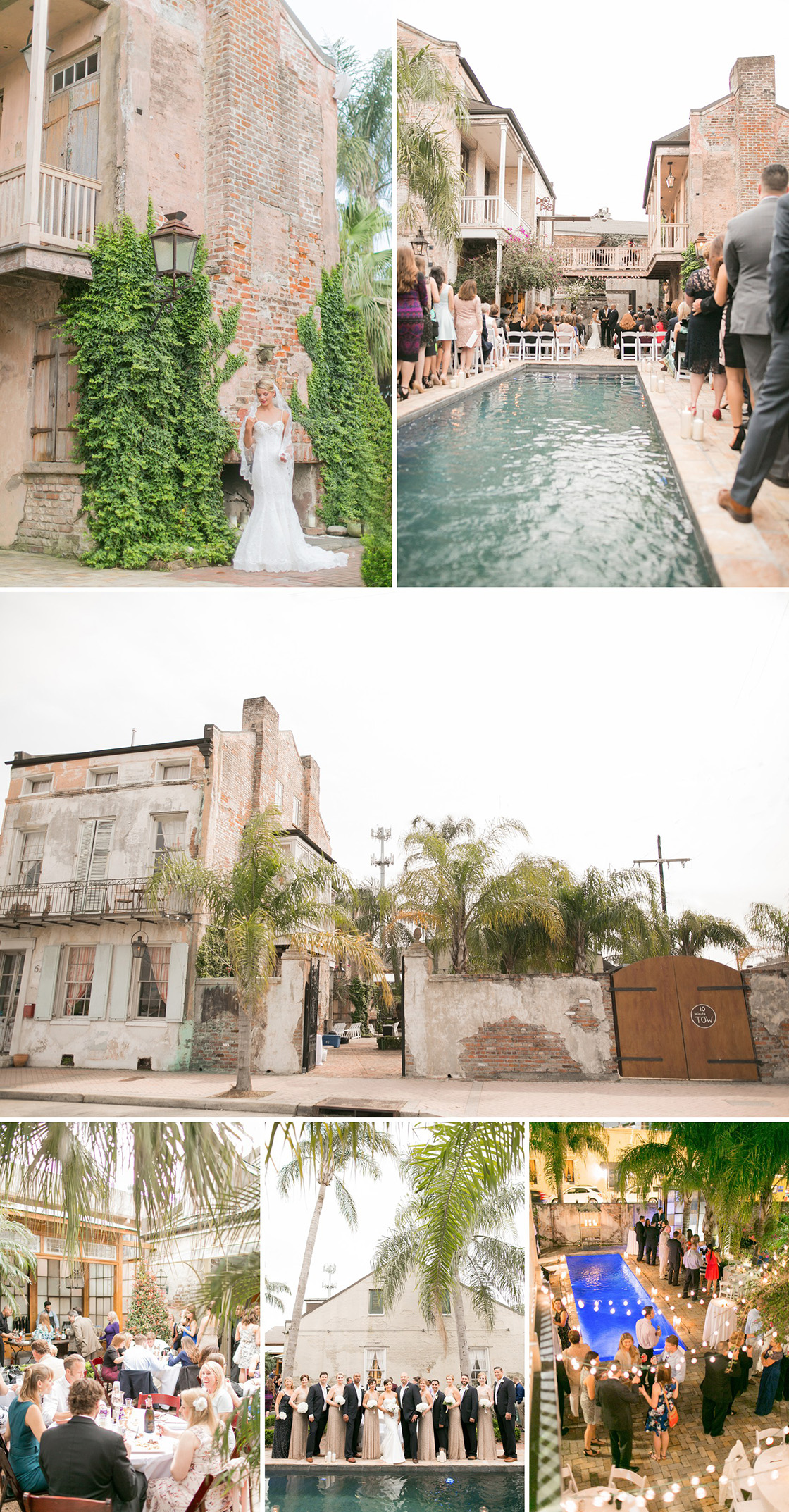 *Elms Mansion
Capacity: 400+
Unique Elements: 200 yr old magnolia tree offering shade, a beautiful gazebo, two 200 yr old oak trees, 2 decks for extra space
Cost Per Head: Packages starting at $75 per person.
Additional Information: This venue is a combination of indoor space and courtyard/outdoor space. In the event of rain, they offer many options for tenting, ranging from one smaller tent to many tents if needed. They also offer additional upstairs space in the event of rain at no additional charge
http://www.elmsmansion.com/weddings.html
*Board of Trade
Capacity:  More information coming soon!
Unique Elements:
Cost Per Head:
Additional Information: Contact: Leah@pigeoncaterers.com
http://www.neworleansbot.com/the-space.html
PIN THIS IMAGE FOR REFERENCE LATER!