back to grid
Destination Wedding in Europe
November 19, 2019
Congratulations! You're planning a destination wedding in Europe!
You must be like us – an avid lover of travel and adventure.
Planning a wedding has a lot of moving pieces, and doubly so if you're planning a destination wedding.
There's often concerns about language barriers, the 6-9 hours time zone change between you and your vendors (which can make phone calls tricky!).
Then there's the worries of selecting the right venue for your guest list. And speaking of guests, most couples ponder how many of their guests can actually travel for the destination wedding and once they get them here, how will they ensure the smoothest travel options for their friends and family from the airport to the venue?
You may have a slew of other questions as well if you're just beginning your planning. It's ok, trust us!
Since moving to France over 3 years ago and working with dozens of couples who have chosen to do a destination wedding, we've learned a lot about what goes into planning this unique type of wedding.
So whether you're at the start of your planning or you've narrowed down a few details, we hope we can help sort out a few common questions that people have when planning a destination wedding.
1. Where Should You Hold Your Wedding?
Not to state the obvious, but Europe is a big place. There are so many amazing choices for weddings and wedding venues across the entire continent.
We may be a bit biased since we live in Paris, but we especially love the areas in and around Paris, and of course anywhere in the South of France.
Weddings in Italy also rank high on our list. A villa wedding in the rolling fields of Tuscany is magical! We're also big fans of Greece too… my list could keep unfolding. I told you, avid lovers of travel! 🙂
Some of our favorite venues in those areas are Chateau de Varennes, Vaux-le-Vicomte, Chateau de Villette, Chateau de Vallery, Chateau La Bourdaisiere, Chateau Laborde St. Martin, and Chateau d'Artigny, Chateau de Tourreau,
In Italy, we love Villa la Medicea di Lilliano, Villa Balbiano, Villa del Balbianello, Montelucci Country Resort, Villa Ephrussi de Rothschild, Villa Erba
2. Should You Hire A Wedding Planner?
We've photographed a ton of weddings over the years, so we are used to wearing many hats.
However, even though we can help answer a lot of questions about destination weddings, we don't fully wear the planner hat.
Which brings us to the next question we get from couples – should you hire a wedding planner?
Here's the deal.
It's true that you don't really need a wedding planner. You can plan the entire destination wedding yourself.
When we were getting married (which was a local wedding, not a destination wedding), that's what I thought – that we didn't really need a planner.
But after we hired ours, I never looked back!
She was worth her weight in gold, and I never had to worry about anything. I highly suggest a planner to help keep you calm and enjoying the process.
This is especially true if you're planning a wedding on another continent! Having a wedding planner that's familiar with the area and local vendors can be super valuable and alleviate a ton of stress.
If you want a list of wedding planners in the area you're hoping to get married, send us an email and we'd be happy to refer you!
3. What Legalities Should You Consider When Tying The Knot Abroad?
This is a really important question, and will vary from location to location.
For example. In France, there's specific residency requirements you have to meet before you can legally marry there.
Because of that, a lot of people legally marry before traveling, and just host the ceremony and celebration in France.
Our best advice here is to make sure to ask your wedding planner. They'll have the details for you and be able to point you in the right direction!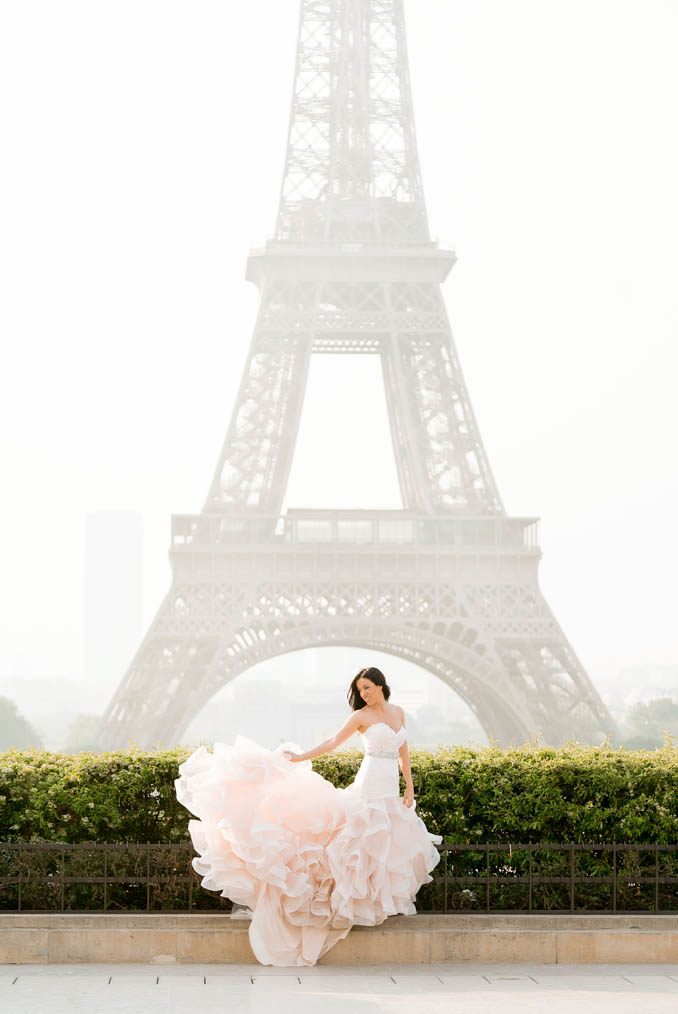 4. When Should Your Guests Arrive?
We recommend 2-3 days before festivities begin to shake off the jet lag and fully enjoy the celebration.
Many guests will make this a vacation, so it's great to provide as much information about the area for them as possible.
As far as how many guests to expect – well, that's a bit more complicated and will vary based on each family and friend group.
Usually the couple will have a good idea of who can make the trek halfway around the world, but if it's in a desirable location, don't be surprised when some unexpectedly say yes as well!
5. Consider The Weather and Any Local Festivals or Events
If you're traveling halfway around the world for your big day, you want to make sure the weather will be agreeable!
Of course you can't control what happens day-to-day, but you also don't want to try to host an outdoor wedding during a rainy season.
Another thing you want to be aware of are local festivals. Is the city you're traveling to having a giant celebration of some sort the same week you want to get married?
If so, that's going to make finding lodging for your guests more difficult, and possibly even increase the cost of travel to that particular location.
Do your research ahead of time and make sure to talk it out with your planner.
6. Should You Visit The Area Beforehand?
It can be a really great idea to visit the area ahead of time so you can put yourself in the environment and get a feel for how cozy or how grand a space can be.
However, in the event life is too busy for this option, there's a lot that can be taken from looking at photos and reading reviews.
Have a thorough set of questions to ask your coordinator or the venue coordinator so you can feel confident in your decision.
About Us
My (Doug) favorite photo of CheyAnne is when she took a pedi-cab through the French Quarter on the way to our first look. She's laughing, her dress is blowing up in the air. I know her, and I know her faces, and I can tell that this is her face of pure, excited joy and happiness.
That's what we want for you: for every emotion of your wedding day to live on through your images. With 12 years of experience and backgrounds in photojournalism, documenting the real and candid moments of your personal story is what we do best.
We're also avid travelers and in love with all things travel! Here are some of our favorite destination weddings and elopements we've photographed: French Chateau Wedding,Tuscan Wedding, Lake Como Elopement, Italy Elopement in Certaldo, Chateau de Varennes (this one took place in- Burgundy, France, and was captured on 8mm video).
If you're curious about what it's like to work with us, check out the video below:
Still Looking For A Destination Photographer?
If you can't already tell, we are crazy about destination and travel weddings! Contact us now to check our availability and gush about your travel plans 🙂